OpenAudible
OpenAudible is a cross-platform audiobook manager designed for Audible users. Download, view, convert to MP3 or M4B, and manage all your audio books with our easy-to-use desktop application.
See all your Audible books in one location, on all your Mac, Windows, and Linux computers. Automatically organize your books as an HTML library. Split and join audio books... and much more!
Downloads
More downloads and checksums here.
Features
Automatically connect, download and convert all your Audible book purchases
Supports conversion to M4B, MP3, M4A audio formats
Export your book lists to html, json, or spreadsheet
Supports importing additional titles into your library
Split and join books by chapter
Supports all Audible regions
Automation features make it easy to update your library after buying books
Quick links to access author, series, and narrator pages
Internationalization (English, French, German, Spanish, Arabic, Russian, & Hindi)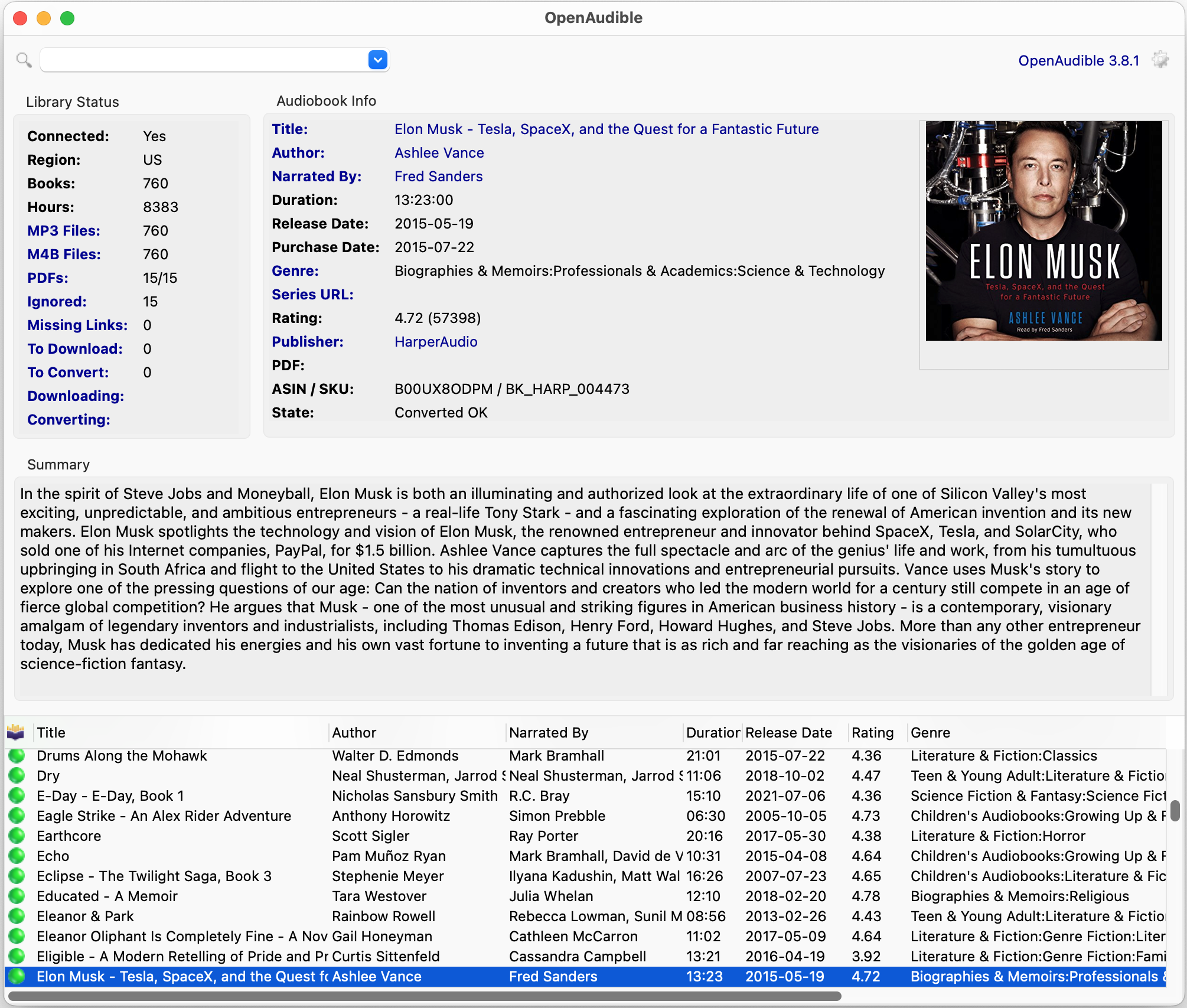 Quick Start
OpenAudible has a full set of documentation with a Quick Start guide.
But you can just jump in and follow these steps to get started.
Download, install and launch OpenAudible
Update preferences, if desired.
Select: Controls: Connect to Audible and log onto your audible account.
Download some or all of your books.
Convert some or all of your books to MP3 or M4B.
To find the converted book files, select one and right-click "Show MP3" or "Show M4B"
Periodically run Controls: Quick Audible Library Sync to update your latest purchases!
Full help is available under the About Menu (or by pressing F1)
Technical Support
OpenAudible issues are tracked on github.
Problems with your order or license?
We respond to all issues and have implemented a lot of great user suggestions. However, to help us, please check the documentation and search issues to see if your problem has already been asked and answered before submitting a new issue.
Frequent Issues
AAXC and AAX files downloaded from Android or Kindle devices are not supported.
Free books, podcasts, Romance series, and returned books are not supported.
Type F1 from the application to view the full documentation.
Purchase
OpenAudible is a low-cost shareware product. Purchase Here or buy from within the program.
A license allows you to use the software without restriction on up to 5 audible accounts. Free updates for 1 year are included. You can use a license with Mac, Windows and/or Linux!
What started as an Open Source (with 625 stars by github developers) project has turned into a 2 year development effort by a small group of developers. We've reviewed and fixed 300+ issues and written over 35,000 lines of java code. Your purchase helps us keep OpenAudible running smoothly with new features, bug fixes, and quick updates.
Press and Accolades
Here are some mentions in the press.
Spread the word... we love a good tweet, facebook post, or review.
License and Disclaimer
OpenAudible is unaffiliated with audible.com. OpenAudible uses ffmpeg (LGPL) to decode audible files.
For use with your audible content that you own and are allowed to download.